The web portal for control of the Cobalt Robotics assets in your facilities
What is the Cobalt Customer Dashboard?
The Cobalt Customer Dashboard is a web-based application made available to select members of the Security, Safety, and Facilities team. The web-based application is accessible via secure login on a Google Chrome browser on any device. Users will have access to live camera feeds and events from their robot fleet, dispatch-on-demand functionality, and a query-able database of events and multimedia over time in their space.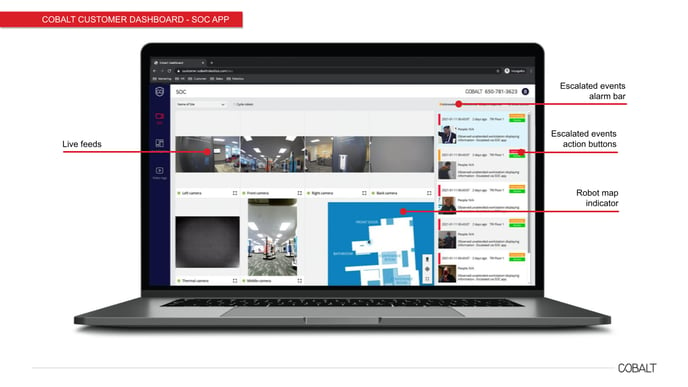 Account Management and Permissions
User accounts to the Cobalt Customer Dashboard are created and managed by your Cobalt Account Manager. We work directly with your leadership to determine access and permissions levels for each user, then use this information to create and share your account credentials.
Available permissions levels include the ability to restrict by application, geographic regions, and event type.
| | | |
| --- | --- | --- |
| Application | Basic Description | Permissions Options |
| SOC App | Live Camera Feeds and alarms | Yes | No |
| Investigator App | Historical event dashboard | Yes | Security Events Only | Facilities Events Only | No |
| Video Logs App | Export video footage | Yes | No |
| All Apps | Restrict all to a Geographic region | Global | Regional | Site | etc. |
Getting Started
Cobalt Account Managers work directly with your leadership to determine access and permissions levels to the Cobalt Dashboard. Your Cobalt Account Manager will then use this to create and share your account credentials.
Begin by downloading the Google Chrome browser on your computer. Once inside a Google Chrome window, navigate to customer.cobaltrobotics.com. Add this URL to your bookmarks for future reference.
Enter your company email address in the "Email/Username" text field and hit "Submit".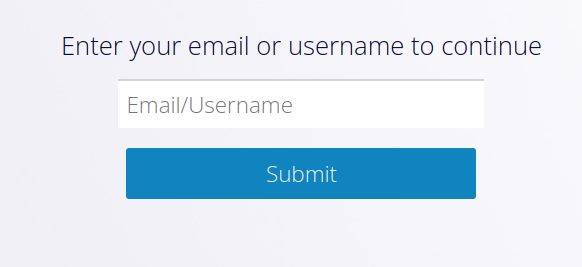 Enter the username and password provided to you.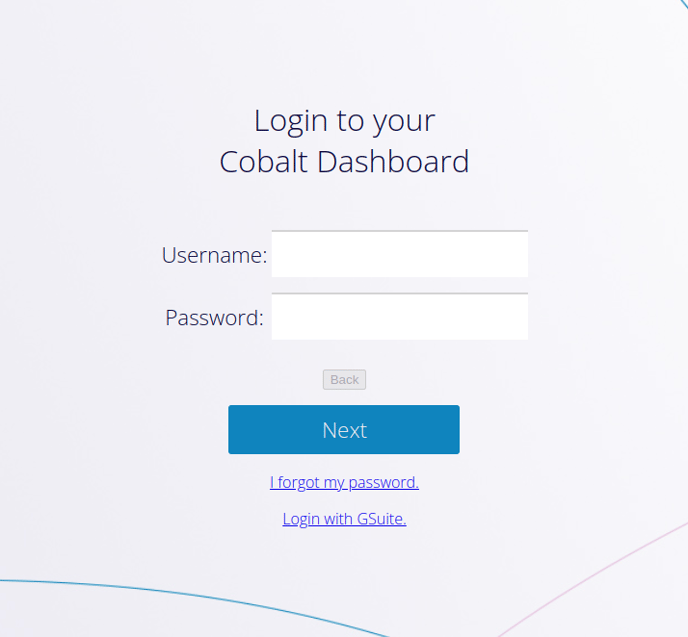 NOTE: If your organization has elected to utilize Okta SSO for your dashboard credentials, the above page will redirect you to your internal organization's login portal.
You should now be logged into your Cobalt Customer Dashboard, which should look similar to the page below. If you are having trouble viewing the camera feeds or map, it may be due to a poor WiFi connection or that your robot services are not yet operational. If these problems persist, please contact your Cobalt Account Manager for further assistance.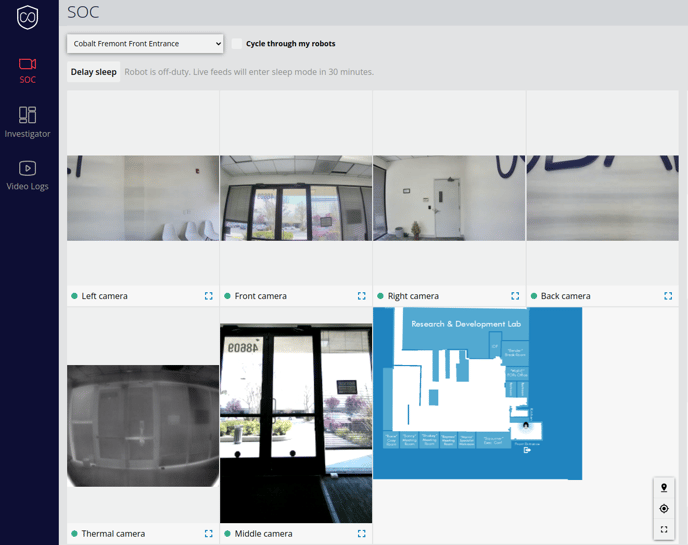 Navigating the Cobalt Dashboard
The Cobalt Customer Dashboard is available from Google Chrome on any device anywhere in the world and comprises three main applications: the SOC App, Investigator App, and Video Logs App.
SOC App
The SOC App allows you to use live camera feeds and event notifications to track activity and manage incidents in real-time. You'll be able to see what the robot is seeing, where the robot is within your space, and manage escalated and non-escalated events as they occur.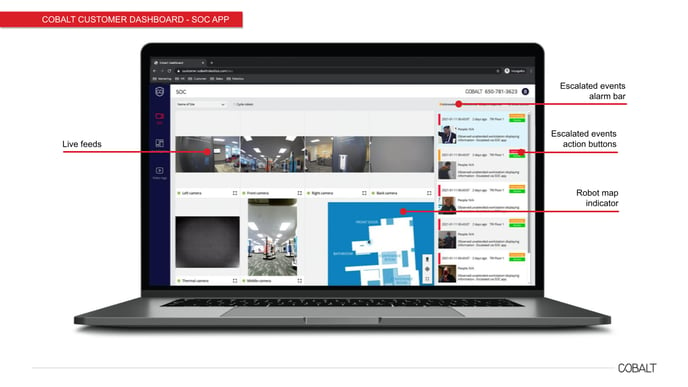 Click on the lower right-hand corner of any camera feed to expand to full screen. Enlarge the map, follow the robot, or send a dispatch request using the buttons in the bottom right of the map view.
Actively respond to and resolve escalated events in the Events bar on the right pane of the screen. Check the "Cycle Robots" for the SOC APP to automatically cycle through each robot in your fleet every few minutes, or select the sites manually using the drop-down in the top left corner.
Investigator App
The Investigator App is a database of events focused on facilitating forensic review. You'll be able to search an archive of events using filters to obtain detailed incident info and relevant multimedia.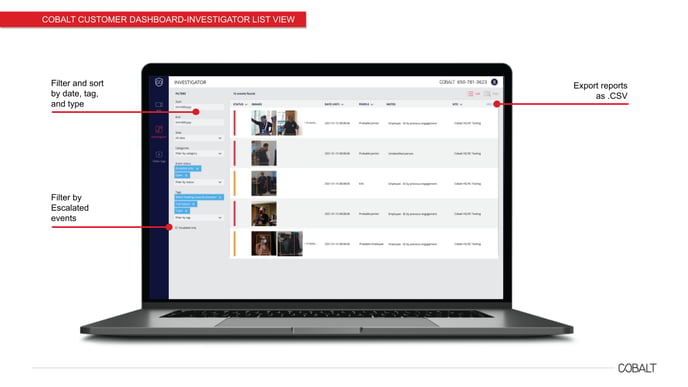 Filter searches by date and time ranges, site locations, event type, and event tags. Events are available to view for one year via the investigator app.
Switch over from "List" view to "Map" view in the upper right corner of the Investigator App to view all of these events overlaid on maps of your sites. Simply hover over hot-spots and click on specific events to bring up the incident report.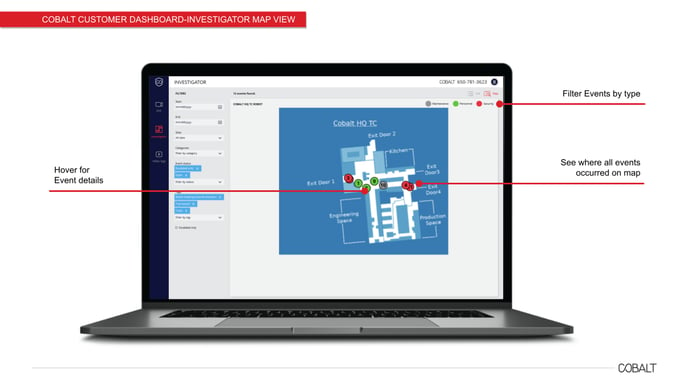 Video Logs App
The video logs app is a data download tool that allows customers to self-serve video logs from their robot fleet. You'll be able to select a specific time, date, site, and duration. The high-resolution, encrypted videos will be decrypted in the Cloud and securely transferred to your email. Please allow for up to a few hours of download time, noting that the longer the duration of a video requested, the longer it will take to download and send securely to you.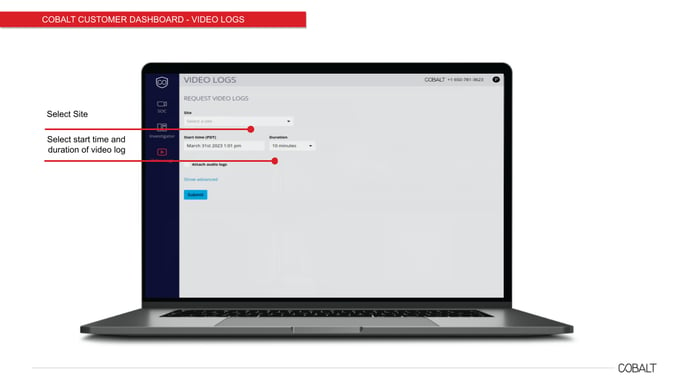 Video logs are encrypted and stored on the robot, with a lifetime of at least 30 days in most cases. If you would like to retain the physical copy of the full logs, reach out to our support team at support@cobaltrobotics.com and we can arrange to extract and decrypt the hard drives. The cost to do so is typically about $600 for the drives, plus labor.
Have Additional Questions?
Please reach out to support@cobaltrobotics.com. We would be happy to assist you.