How can I trust Cobalt's Security Specialists to elevate the human judgment in my security program?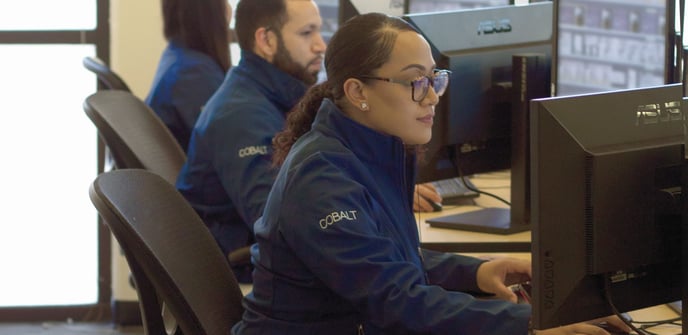 What are the vetting standards for becoming Cobalt Security Specialists?
Cobalt Security Specialists are hired via a rigorous interview process for their technical aptitude, attention to detail, and ability to represent professionally to customers.
All Cobalt Security Specialists, like all Cobalt employees, pass a background check as a condition of employment that searches the following:
County Criminal Search (Last 7 Years)
International Adverse Media Search
International Criminal Search V2
National Criminal Search (Standard)
Sex Offender Search
SSN Trace
Global Watchlist Search
What training do our Cobalt Security Specialists undergo?
Cobalt Security Specialists are trained on the fundamentals of security operations. They learn how to operate the Cobalt robot, as well as how to analyze and properly respond to the various security, safety, and maintenance events that occur on-site in accordance with the site's post orders.
During their first week at Cobalt, our Security Specialists are trained through a mix of asynchronous online training, one-to-few instruction, and practical exercises in the operation of their robots and performance of their duties.
After completing training, the Specialists go through on-the-job training to bridge the gap between the training environment and the real world while running robots.
As the Specialists progress in their careers, they receive additional training in management and leadership, as well as robot troubleshooting, so they can develop into section and shift leads, and oversee the Cobalt fleet of robots.
What tasks do Cobalt Security Specialists do?
Cobalt Security Specialists primarily oversee the operations of their assigned robots at customer locations. Although the robots patrol autonomously, the Specialists back up the robots' capabilities by:
Interpreting security and facility events at the customer site that the robot is not programmed to understand
Troubleshooting and correcting robot navigation if it encounters an unexpected obstacle or circumstance
The Specialists also provide a "human in the loop" and employ their judgment to:
Alarm response
Manage escalation of events requiring the notice of the customer security team
Provide first line customer support
Adjust patrols and inspections when requested by appropriate level of customer leadership
Finally, the Specialist handles interactions with people on the site through answering video calls and dialing into the robot to interact with on-site people.
How do the Specialists do this work?
The Specialists employ our Specialist Toolkit to interact with the robots and maintain awareness of each robot's status and current objectives/tasks. We divide responsibilities for the robots into two roles: a pilot and an event analyst.
The pilots are responsible for verifying the robots are patrolling according to the patrol schedule. When robots encounter a navigational problem, such as an unexpected obstacle, the pilot ensures the area is safe according to our SOP and then guides the robot to where it can continue the patrol. The pilot also adjusts the robot's patrol route and schedule based on ad hoc requirements from the customer, such as avoiding a special event or a hallway closed for maintenance. Finally, the pilot is the first line of defense for troubleshooting any problems that the robot encounters.
Our event analysts back up and verify the identification and tagging of events by our machine learning systems. They review events to ensure the audit meets the site's criteria, and if not then the escalate the event to the customer's GSOC or facilities team according to the customer's instructions. Depending on the criticality of the event, they can escalate the event into the customer's Daily Security Report, to the customer's SOC app, via an email to the customer, or via a phone call to the customer.
How do Security Specialists compare with onsite guards?
No system is perfect but Cobalt is inherently better for physical security in posts where our system can perform. Not only do we deliver the consistency that only robotics can deliver for physical tasks, but our Cobalt Security Specialists elevate the level of human judgment in a security program.
Our Security Specialists have several advantages compared to onsite guards:
Trustworthy: Our Specialists and robots have documented cases of shrinkage declining when Cobalt replaced human security guards, as well as aiding in criminal prosecutions of thieves. Our robots cannot be an insider threat, and we can ensure they do not leak sensitive information through blurring any text seen on-site.
Reliability: The robot is always at your site and able to be monitored, even when not patrolling. The robot will never call out sick.
Vigilance: Our robots never get tired or bored looking at the rooms and floors over and over. When they detect something out of the ordinary, they bring in a fresh set of human eyes to apply judgment.
Fully Auditable: Our robots have a rolling recording of up to 30 days of their patrols. Our robots' reporting is based on accurate recall that supports investigations or questions with video/audio logs, patrol summaries, and security reports. Video logs trump human memory, which is notoriously unreliable even when guards notice and write down what they have observed in logbooks. Additionally, we can access months of patrol data to verify who or what was in the building and when. Our recordings also provide peace of mind that your spaces are being patrolled as often and as thoroughly as you need.
Efficiency: Most sites experience very little activity that requires an intervention. Because of this, we can spread one Specialist over multiple sites and robots to maximize the utility and efficiency of the role, and make it more engaging and interesting for the person, which means better service.
How do I monitor my robot's status?
Cobalt offers a 24/7 customer dashboard that details in real time all activity that your robots are currently taking as well as live feeds, the ability to request video logs, events that have been escalated to predetermined parties (frequently the GSOC), and other action based features that afford you the ability to dispatch the robot to a location on site for further investigation and increased situational awareness.
Where are the Specialists located?
Currently all our security specialists are located in the United States and 70% are located in the main command center in Provo, Utah. We selected Provo to host the command center because of the area's (relatively) low cost, proximity to company headquarters in Silicon Valley, and the amount of multi-lingual talent due to the strong Mormon mission tradition which influences education in the area.
How do US-based Specialists comply with data sovereignty requirements like IRAP, GDPR, UK-DPA, LGPD (Brazil), etc.?
The data is processed and stored on servers that meet your data sovereignty requirements. Our Specialists only interact with that data on those servers, and cannot download or store the data locally on US-based storage.
I would like to have my own personnel interact with my employees and customers through the robot. How do I set that up?
All clients can manage robot interactions through the Enterprise Video Chat feature. Discuss this feature with your account executive.
How do I get a dual badge program going, where I have Cobalt Specialists passing my employment onboarding and background check requirements working on my locations?
To meet more stringent security requirements, Cobalt can ensure that only Specialists who are accredited to your organization will monitor and enforce your rules your locations. Please discuss this option with your account executive.